Profile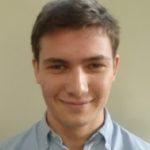 Tom Nicholas
Curriculum Vitae
Education:

Cirencester Deer Park School (2005-2010), Farmor's Sixth Form, Fairford (2010-2012), University of Oxford (2012-2016), University of York (2016-2020)

Qualifications:

Master's in Physics, currently studying for a PhD in Plasma Science and Fusion Energy

Work History:

I've worked briefly in the defense industry, on listening to underground explosions and simulating rockets

Current Job:

PhD Student Researcher at Culham Centre for Fusion Energy

Employer:

Culham Centre for Fusion Energy, University of York
Favourite thing to do in my job: Read about new cool things other people are doing in physics, and then tell other people about them!

About Me

I'm a PhD student living in Oxford, working on nuclear fusion.

Read more

I live in Oxford, and drive to work at Culham Centre for Fusion Energy each day. It's a big laboratory near Oxford, with over one thousand people working there, including people from all over the world.

When I'm not doing physics I like to play various sports, at the moment I'm into gymnastics and badminton. I also like to play my guitar.

My Work

I'm trying to make a star in a box so we can use its heat – I use huge computers to work out how best to hold it in.

Read more

The Sun isn't burning like a candle flame, it's actually using a completely different method to get hot, called Nuclear Fusion. If we could do the same thing on Earth, then we would have a way of generating as much energy as we wanted, without burning any fossil fuels like coal. This would be great because fossil fuels are running out, and also we want to stop climate change!

Unfortunately making nuclear fusion happen is really hard. We have to take some hydrogen gas and heat it up until it's hotter than the centre of the sun: 100 million degrees! Only then will fusion happen and give us more energy.

We want to put this super hot gas (called a plasma) in a box, but whatever we try to make the box out of would just melt! What we have to do instead is use extremely strong magnets to hold the gas in one place, without it touching the walls of our box.

The plasma doesn't want to stay still though, imagine squeezing a balloon by wrapping lots of rubber bands around it – it would just try to bulge out however it can. If the plasma bulges out and touches the walls of our box, then it will fizzle out like a candle flame being blown out. This means we have had to do lots of work to find out what the best way of holding the plasma in one place for long enough is.

We test our ideas for holding the plasma using big machines, and one of our best ideas is called a tokamak. We have built tokamaks all over the world, and the biggest ones running at the moment is at the lab I work at near Oxford!

One day we want our machines to be good enough that we can use them to make a new type of power station, and finally get rid of the dirty coal- and gas-burning power stations we have at the moment.

My Typical Day

Run simulations of the plasma on supercomputers, then try to work out why it's does what it's doing!

What I'd do with the prize money

Take plasma experiments to schools to teach kids about plasma science and fusion energy.

My Interview

What or who inspired you to follow your career?

Reading about crazy things like black holes and space travel in books.

Were you ever in trouble at school?

I used to get in trouble for climbing on the school roof to get footballs back all the time!

If you weren't doing this job, what would you choose instead?

Maybe an economist?

What's your favourite food?

Spaghetti Bolognese!

Tell us a joke.

Why did the sun not go to university? Because it already had a million degrees!
---
---