Profile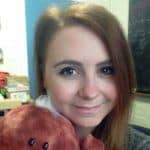 Rosie Cane
Thank you everyone!
Curriculum Vitae
Education:

University of South Wales

Qualifications:

First Class Honours BSc Observational Astronomy

Work History:

Science Communicator at Techniquest Science Discovery Centre

Current Job:

PhD Student and Teaching Assistant

Employer:
Favourite thing to do in my job: Leaving the city lights behind and gazing up at a dark sky on a clear night – making out different stars and constellations & the occasional planet and deep space object with my telescope!

About Me

I'm a first year PhD Student at the University of Edinburgh studying Astrobiology.

Read more

My undergraduate degree was in Astronomy – so I love all things space-related! I am a huge Star Wars fan (with a soft spot for R2-D2) and a keen runner, hoping to get into the London Marathon next year!

My oh-so exciting party trick is that I can recite pi to 45 decimal places…

My Work

I'm studying astrobiology and extreme life!

Read more

My work involves looking at how life can survive in 'extreme environments', horrible places that us humans would not be able to live in comfortably. Places like the bottom of Earth's oceans with high pressure and low temperature or the acidic, hot interior of a volcano!
Organisms that survive in these conditions are known as 'extremophiles'. Studying extreme life is a key way of understanding how life could survive on the icy moons of Jupiter or even on Mars, the red planet.

I am currently doing research with an organism called Halomonas hydrothermalis, a bacterium moderately halophilic psychrotolerant organism, which means it can withstand high levels of salt and very cold temperatures!

This is them growing happily on an agar plate:

I am exposing the bacteria to different extremes. As I mentioned earlier, most environments on Earth pose more than one extreme to organisms. So I am looking at how combinations of extremes affect the growth.

To do that I am using 96-well plates and a plate reader. This allows me to add different concentrations of substrates to each well, for example an increased salinity and nutrient limitation.

Mars has long been favoured in the search for life in the Solar System, but for any form of life as we know it to be present on the red planet, water must be present in some form. One key to understanding this may be at looking at hydrates on Mars, in particular, Magnesium Sulphate.

To investigate this I  visited Canada to sample The Basque Lakes – Magnesium Sulphate rich brine pools.

(Mars had a great time visiting the Basque Lakes!)

From my samples I am isolating organisms that I can put under Martian Conditions in our awesome Planetary Simulation Chamber at the University of Edinburgh that can recreate the pressure, UV and temperature of Mars to try and find some Mars-resistant organisms!

My Typical Day

Coffee, Emails, Reading papers, Lab work, More Coffee!

Read more

There really is no typical day with my PhD! It can range from a day of report writing, to a day of lab-work, to a day of just reading papers and planning experiments!

More recently I have been doing working on trying to isolate an organism from the lakes I visited in Canada.

In the picture above, all those green blobs you see are bacteria growing! I'll be spending the next couple of weeks trying to isolate an organism from this to investigate the effect of salinity and pH on growth!

What I'd do with the prize money

UK Centre for Astrobiology Outreach

Read more

I would like to use the money to inspire children to investigate and gain and interest in science using the exciting subject of astrobiology. Following a project I carried out in my undergraduate degree, researching subject choices of UK pupils between GCSE and A-level, I found a severe lack in females choosing to study physics when many chose biology. I think that astrobiology is the perfect to link the two together as an outreach programme; and show how exciting and accessible physics can be, along with chemistry, geology and many other sciences that play a part in understanding our own planet and the billions of others out there!

My Interview

How would you describe yourself in 3 words?

Enthusiastic, adventurous, space-nerd.

What's the best thing you've done in your career?

Met Brian May!

What or who inspired you to follow your career?

David Bowie, and my Dad.

Were you ever in trouble at school?

Nope O:-)

If you weren't doing this job, what would you choose instead?

I would probably work in Event Production.. I love concerts and music festivals!

Who is your favourite singer or band?

Biffy Clyro

What's your favourite food?

Cheese!

What is the most fun thing you've done?

Scuba diving in Thailand

If you had 3 wishes for yourself what would they be? - be honest!

Finish my PhD, visit Yellowstone National Park and spread some happiness.

Tell us a joke.

What did the Nuclear Physicist have for lunch?… Fission Chips.
---
---
---