Profile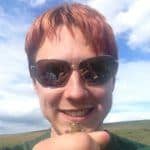 Philip Donkersley
reviewing a paper today
Curriculum Vitae
Education:

Imperial College for a 3 year Bachelors in Biology, Imperial again for a 1 year masters in Integrated Pest Management and Lancaster University for a 4 year PhD

Qualifications:

BSc hons, MSc hons and PhD

Work History:

Research positions at Lancaster University and Federal University of Vicosa (Brazil)

Current Job:

Research Associate

Employer:

Lancaster Environment Centre
Favourite thing to do in my job: I love working outdoors, the sun, the rain, the snow, all of it! But I also crave combining that with detailed lab work and statistical analysis!

About Me

I'm into science, pc gaming, and walking in the lake district

Read more

I live in a cottage out in the countryside near the Forest of Bowland, where I grow my own veggies, keep a couple of bumble bee colonies and maintain wildflowers for bees and butterflies.

I cycle to work daily, and have just started using cleats, and wow are they way more fun than reglar pedals!

I'm more of a fan of Futurama than the Simpsons, but I grew up watching both of them religiously. I also have a soft spot in my heart for anime, the first I ever watched was Akira when I was 13.

My Work

Landscape ecologist at the Lancaster Environment Centre

Read more

I have just returned from working for two years at a university in Brazil. There I was researching how insects transfer diseases between trees.

Now I have returned to England to work at Lancaster University, researching emerging methods for observing bees in flight. I just  finished testing a laser based system for tracking a bee in a field.

I am now looking to spend a summer recording how different bees behave around a mixture of different flowers, and whether individuals have personalities that make them want to eat only a certain mix.

My Typical Day

Coffee, chat, stats, get outside!

Read more

After I cycle into work, I grab a cup of coffee and have a sit down and a chat with my office mates.

Depending on the day, I'll have planned to immediately get back outside again once the coffee is done or into the lab to run some analyses or… stay at my desk and carry on with statistical analysis or writing.

What I'd do with the prize money

I'd use the money to teach kids about science using games

My Interview

How would you describe yourself in 3 words?

Outdoors practical scientist

What's the best thing you've done in your career?

Learning how to keep bees with the Lancaster Beekeepers

What or who inspired you to follow your career?

Lots of videogames growing up

Were you ever in trouble at school?

Only a little bit

If you weren't doing this job, what would you choose instead?

Baker/brewer

Who is your favourite singer or band?

Starbomb

What's your favourite food?

Nachos and refried beans

What is the most fun thing you've done?

Research post in Brazil

If you had 3 wishes for yourself what would they be? - be honest!

A permanent research job, a fruit orchard and good health!

Tell us a joke.

Have you ever picked a buttercup? Because its amazing where people leave their buttocks these days.
---
---